Wu Xin's girl feeling, she is wearing a rainbow sweater.
Thirteen years have passed since entering "Happy Camp", and Wu Xin has gradually become a fashion darling from the shy girl in the past. She is becoming more and more tasteful both in dress and in shape. Not long ago, Wu Xin was still playing a fashionable female producer in the TV series. I have to say that the fashionable temperament is not bad. It is estimated that many people do not believe it. Now Wu Xin is 36 years old, but under the support of good clothes, the whole person seems to have grown upside down.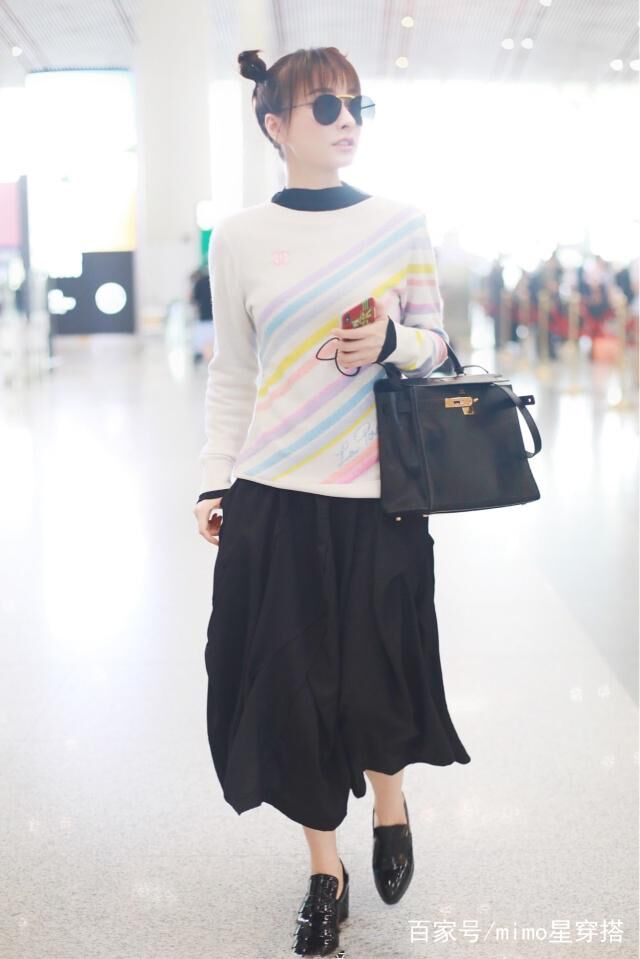 Previously, Wu Xin appeared in a light-colored suit at the release meeting of the TV series, which was full of neatness and competence. Wu Xin, with her short hair cut, is indeed more recognizable than her long hair. The whole person also looks very smart. It is more sweet to cooperate with the eight-character Liu Hai. Elegant naked pink suit, collar and side have done white stripe stitching to increase the design sense, lower body with the same type of suit pants under the white stripe decoration is more fashionable and hierarchical. Paired with white pointed shoes, Wu Xintuo's career elite model.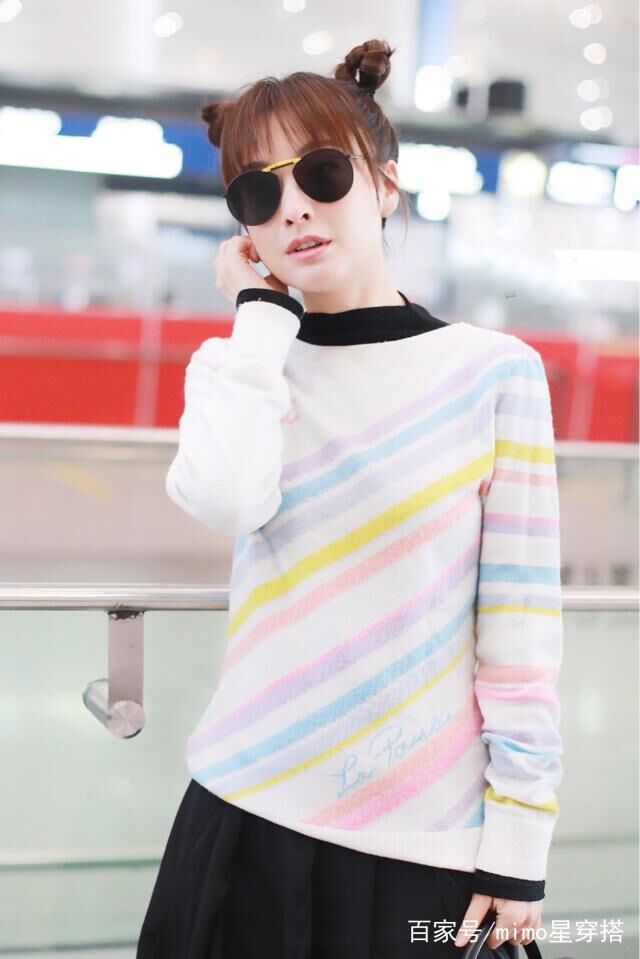 Wu Xin's clothes improved a lot after filming the TV series. Wu Xin appeared in the latest airport show wearing a rainbow sweater with a pill head, full of vitality, which is like 36 years old. It is really a girl's feeling of Wu Xin. Clothing has increased the age of wearing and reducing, but no suspicion of tender, temperament is also more outstanding Wu Xin atmosphere, so the feeling of full youth really does not lose a lot of flowers. Painted with light makeup and healthy complexion, the skin is white and transparent and looks much better than before.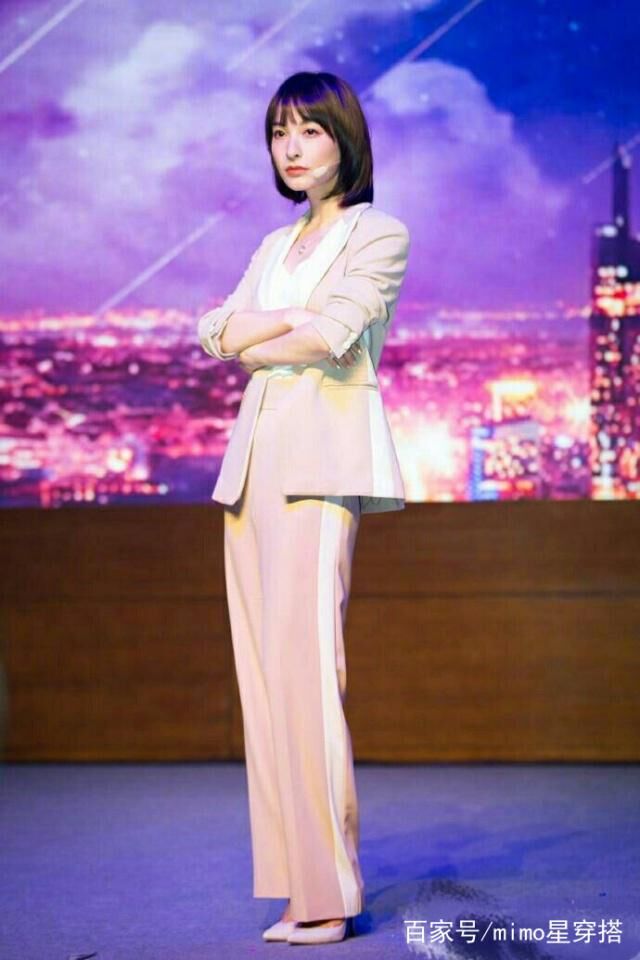 The biggest attraction of the day is the double pill head like Wu Xin, which gives people a sense of vision. In the impression, this is the mother's favorite hair style for her little daughter. It's cute and cute. This time Wu Xin combed such a hairstyle did not feel too pretentious, with the light bangs appear to Wu Xin different cute, I can hardly believe that this is a 36-year-old girl. The large black round sunglasses also have a yellow shelf on them, which immediately makes fashion feel a little more fashionable and more vivid.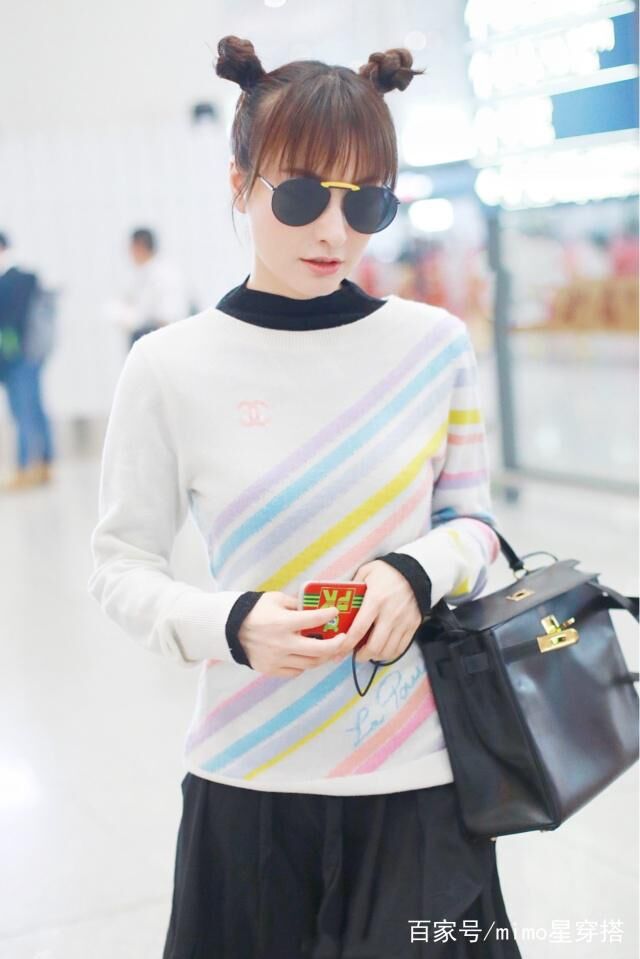 Wu Xin is wearing a Chanel Pullover knitted shirt on the outside of her upper body. It can be seen that the texture is lighter and more suitable for spring. Now, in early summer like this, long sleeves are overlapped and slightly hot. Pearl white background gives a gentle and elegant feeling, knitted sweater with color stripe pattern, slanting pattern makes clothes form a sense of asymmetry, there is a sense of hierarchy. Fresh and vigorous color matching also reveals a youthful atmosphere, and the color matching of the whole body is also very important.
Wu Xin's inner tie is a long dress. The sleeves and collars of the black dress are exposed and the outer knitted shirt forms a sense of hierarchy. The lower part of the dress belongs to the asymmetric stitching with a little Mori style, and it is full of a low-key feeling of literature and art. Although it is overlapping, it can still be seen that Wu Xin has a good figure and a thin waist. It is really a full show of literature and art with the black shoes on her feet. On that day, even Wu Xin chose a black handbag, which matched the whole body's simple style.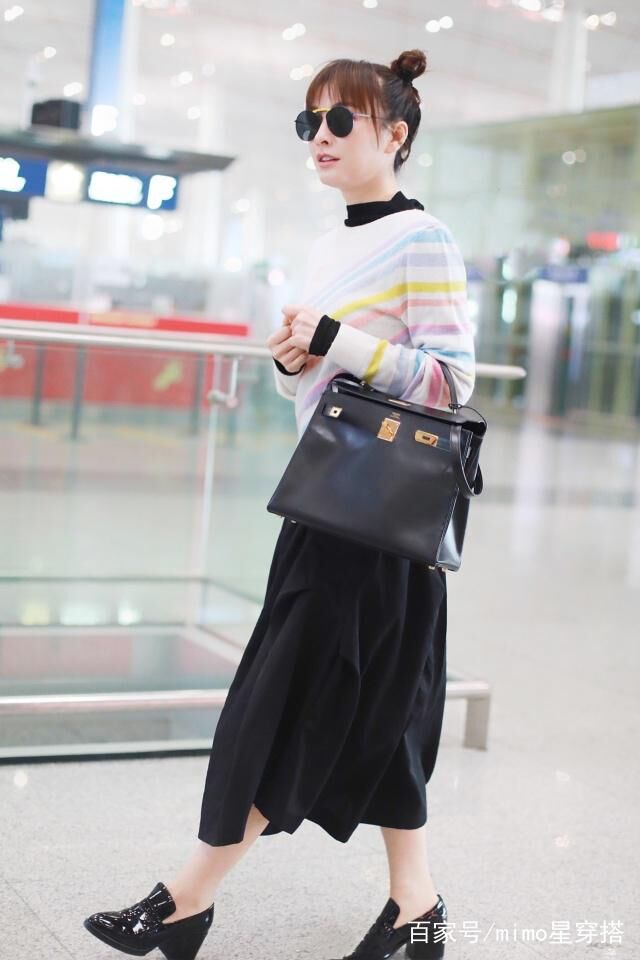 Wu Xin's girl feeling, wearing rainbow sweater with Nazha pill head, full of vitality, which is like 36 years old! _____________ In the past, Wu Xin did not feel confident enough in the program. Now, with the help of good clothes, she is more and more young and energetic. Does Wu Xin's dress make you feel amazing? Remember to leave a message.